---
---
DON'T BE A HERO, BE A ZERO!
We have assembled a sugary dream team of tasty syrups - completely without added sugar.

 

Now you can with a clear conscience get a little extra sweet on your snacks and snacks.

0% ADDED SUGAR - 100% TASTE
All our toppings are made without sugar - yes, 0 grams of added sugar, completely without compromising on taste.

 

Use Bodylab Zero Topping on your skyr, for your fruit, on your protein pancakes, or whatever you just want.

 

Our chocolate topping gets the good taste from real low-fat cocoa powder, and our strawberry topping contains as much as 20% strawberries.

 

We guarantee you a completely unique taste experience!
Chocolate
Chocolate is for you who really love chocolate - and for you who can not get enough at all!

 

With a clear conscience, you can enjoy the completely authentic and full-bodied chocolate taste, even with quite a few calories.

 

The chocolate variant can be used on everything from pancakes to protein milkshakes - yes, it can actually be used in coffee as well.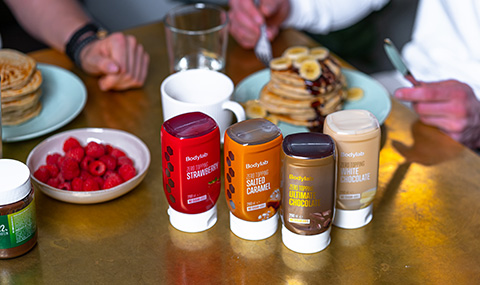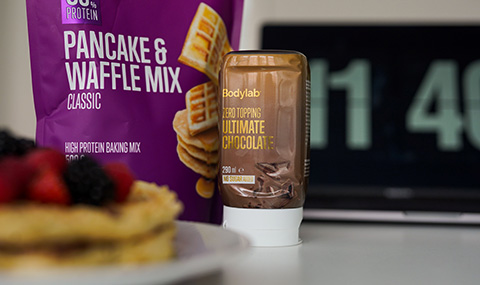 Ultimate Chocolate
Ultimate is a big word, we know that.

 

But that's exactly what Zero Topping Ultimate Chocolate is - the ultimate chocolate experience.

 

We have used the same natural cocoa powder that you find in all our Belgian chocolates, after which we have added copious amounts of roasted hazelnuts.

 

You know, just to give the taste a little extra nuttiness.
Strawberry
Strawberry is developed for you who have a penchant for the sour, the sweet and the fresh.

 

We have taken 20% real strawberries and made the most unique product on the market to date.

 

Use the product on bread, in your skyr or on your pancakes - even in your smoothies or your shakes.
Salted Caramel
Salted Caramel is for you who want the completely unique and very popular "American" experience.

 

Salted Caramel combines the sweetness with the creamy and the slightly salty - it is our best-selling caramel variant so far.
Caramel Cream
There is cream… and then there is Zero Topping Caramel Cream.

 

Soft, delicious, sweet and completely irresistible - it is almost liquid gold.

 

Yes, Caramel Cream actually tastes good on everything.

 

We will not judge you if you liiige give the bottle an extra squeeze.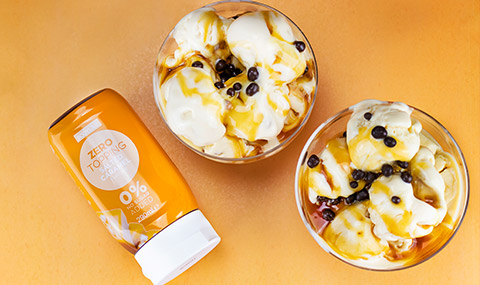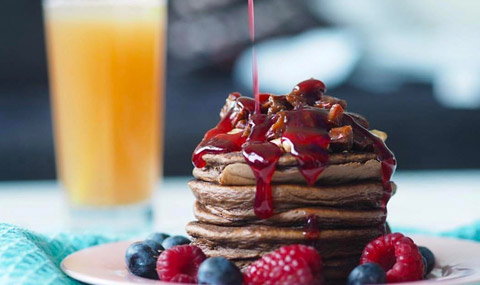 White Chocolate
Smooth.

 

That's how simple it can be said.

 

White Chocolate is velvety pampering for your pancakes, waffles, yogurt, fruit, ice cream desserts, or whatever else you can think of using it for.
Raspberry
Raspberry topping is made from fresh sweet raspberries.

 

No artificial aromas and unnecessary ingredients here.

 

Raspberry is completely without added sugar and gives you the real and authentic taste as you know it from raspberry jam.

 

Perfect for fresh protein pancakes or as a topping on skyr or fruit and protein shakes.
Perfect as a topping on skyr, fruit, porridge and protein pancakes
0 grams of sugar
With approx.

 

5 calories per.

 

teaspoon (total 150 calories per 100 ml)
Ideal for homemade milkshakes
Only 1.1 grams of fat per.

 

100 ml
In practical squeeze bottle
Bodylab Toppings and diabetes
Experience has shown that Bodylab Toppings are absorbed into the body differently from person to person.

 

For most people, the majority of the syrup will act as a dietary fiber in the body, but for some, it appears that some of the fiber causes a rise in blood sugar.

 

This has no significant effect on healthy people, but for a diabetic, the blood sugar effect is of great importance.

 

The product is therefore not suitable for diabetics.
---